Research Categories and Where to Submit Applications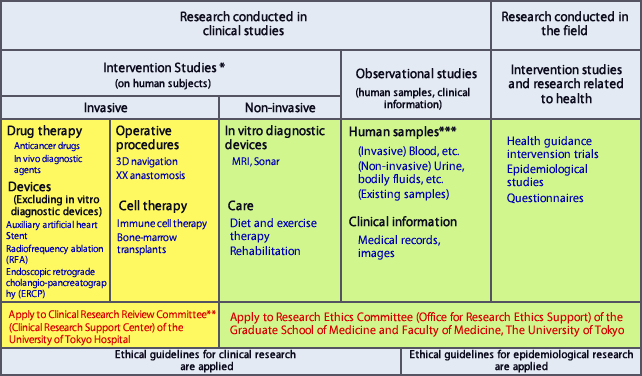 *Medical acts that go beyond normal treatment and are conducted for research purposes, such as when restrictions are placed on treatment, etc., even if covered by insurance, are included in intervention studies.
**For translational research (when there is no history of use by human subjects, or use is extremely limited), human stem cell transplants and gene therapy, consult with the Research Ethics Committee after consultation with the TR Center and Clinical Research Support Center. All therapies governed by the Pharmaceutical Affairs Act are reviewed by the Clinical Research Review Committee.
***Analytical studies of intergenerational gene mutation/polymorphism that come under the purview of multiple committees are reviewed, in principle, by all the committees involved. However please first consult with each committee.