A message from the Dean
Kohei Miyazono
Dean of the Graduate School of Medicine and Faculty of Medicine at the University of Tokyo
---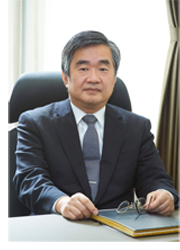 First and foremost, I would like to express my deepest sympathies to all the victims of the Tohoku Region Pacific Coast Earthquake of March 11, 2011. The extent of the devastation is unprecedented in our country's history. The University of Tokyo Hospital has responded by sending medical teams and relief supplies to the affected areas and by admitting and treating injured and ill survivors. As I write these words near the end of March 2011, the crisis at the Fukushima Dai-ichi nuclear power station continues unresolved, and strenuous repair work goes on day and night. I would like to take this opportunity to express to those who are working so hard to rebuild under extremely trying conditions, my profound admiration and gratitude.
In 2004 when the University of Tokyo became a National University Corporation, we began operating in a new and different environment, but we are fortunate that through everyone's united efforts the Faculty and Graduate School of Medicine have grown overall in almost every area. The change of the party in power and political instability following the general elections of 2009 brought another challenge as the central government reduced year by year its financial support for Japan's universities, and we have been forced to debate and deal with difficult challenges for education, research, and clinical care in the future. In that context the recent earthquake, tsunami, and nuclear accident are likely to usher in a period of upheaval in Japanese history rivaling those of the Meiji Restoration and the Second World War.
Effects of the disasters on the Graduate School of Medicine, and our responses
Direct damage to the University of Tokyo's Graduate School of Medicine from the earthquake-tsunami-nuclear disaster has been minimal, but the resulting power shortage is extremely serious and we have been forced to act quickly and to take drastic measures. In the buildings used by the basic-science departments, we reduced our consumption of electricity by 20-to-30% by turning off heating and air-conditioning systems, minimizing the use of lighting and elevators, and stopping some experiments that used large amounts of electric power.
Nonetheless, we do not expect the electricity shortage to be resolved soon, and we are very concerned about serious power shortages not only in the summer months July and August but even into next year. Dealing with this necessitates changes in the schedules of lectures and laboratory work for both undergraduate and graduate students. Schedules for the use of classrooms and laboratories will have to be reset for time off over the summer, for efficient use of "power-hungry" laboratory equipment, and for energy-saving measures in the management of laboratory animals and other biological resources.
The University Hospital quickly convened crisis management meetings and began defining new policies for conserving power while continuing patient care. In the Graduate School of Medicine plans are under way to open a new operating-strategy office that will take charge of organizing teams to grapple with post-disaster responses and to support and expedite our educational and research activities.
The University of Tokyo has encountered difficult situations several times in the past, and each time it has overcome them through the combined efforts of faculty members, students, and staff. The effects of the present disasters are horrendous. Nonetheless, undaunted, we intend to surmount them by pooling our knowledge and working together to find solutions.
Research-oriented medical education
According to the journal Nature's recently released Publishing Index 2010, the University of Tokyo ranks first in the Asia-Pacific region and sixth worldwide. These rankings are based on the number of articles, letters, and reviews written by authors affiliated with the ranked institutions and published in Nature and its sister journals. Although one might dispute the validity of these rankings as indices of research quality, we can in any event point to our ranking as evidence that natural-sciences research at the University of Tokyo is among the world's best. We will continue to make it our first priority to lead the world in medicine and the life sciences.
We now have several programs in place to help highly motivated students become excellent researchers. The Ph.D.-M.D. program got off to a slow start due to medical students' initial reluctance to enroll, but every year over the past few years it has consistently attracted one or two budding medical scientists. To commemorate the 100th anniversary of its founding, our alumni organization, the Tetsumon Club, recently established a fund to financially support the Ph.D.-M.D. program, which has now established itself as the gateway to a research career for students soon after they enter medical school. And thanks to the MD-researcher program established in 2008 and the clinical researcher training program established in 2010, our research-minded medical students now have plentiful opportunities to acquaint themselves with the life of a scientist, whether their interests lie in the basic sciences or in clinical research. With both the national government and certain organizations in the private sector now sharing our concerns about Japan's shortage of research-oriented physicians, we are finally poised to see substantial organizational reforms that will support medical students who pursue research careers.
The stunning progress in and increasing sophistication and diversity of research in medicine and life sciences has been accompanied by rapid proliferation of complex technical and administrative procedures that workers must follow in the conduct of their research. With that in mind, in 2010 we published Guidelines for our researchers, to further improve the quality of the scientific research done in the Graduate School of Medicine, to enhance the already-high regard in which the University is held, and to protect the University's rights to its research-based intellectual property. One set of Guidelines focuses on laboratory research and the other on survey research, and they are available in Japanese and in English via the "Education" section of our website.
Infrastructure, the School of Integrated Health Sciences, and communication with the public
Given the extremely difficult financial circumstances in which university hospitals are forced to operate in Japan today, the University of Tokyo Hospital's President and entire staff can be proud that thanks to their hard work our University of Tokyo Hospital remains the premier institution of its kind in Japan, providing medical care of an extremely high standard. Under the leadership of Dr. Takashi Kadowaki, the hospital's new President, work is underway to completely replace the aging clinical research facilities, with the second phase of construction of new hospital buildings and a Clinical Research Center. While it is known that the University's clinical departments continue to produce world-class research, we also realize that their antiquated facilities ought to have been replaced long ago, and therefore we in the Graduate School of Medicine look forward eagerly to the swift completion of the new clinical research facilities and we give that project our full support.
Our School of Integrated Health Sciences (known until last year as the School of Health Sciences and Nursing) is poised to make great strides toward a better scientific understanding of human health in all its aspects. Because the proportion of elderly people in the Japanese population continues to increase, Japan will soon transition from merely an "aged society" to a "hypergeriatric society." The School of Integrated Health Sciences, with its scholarly focus on health, is perfectly adapted to defining and addressing our growing future needs as a society. Our School of Public Health, established in 2007, has attracted many students and is fulfilling its mission of training expert public-health workers. Its graduates will become public-health physicians, clinical epidemiologists, and health economists actively involved in deciding and implementing policies on health and public welfare and health-care system administration. They will have a noticeable impact on future developments in their field.
This January, with donations collected on the occasion of the 150th anniversary of the founding of our medical school and hospital, work on our Museum of Health and Medicine was completed. It is located on the ground floor of the building that houses the Medical Library. The Museum has permanent exhibits on the history of the University of Tokyo's Faculty of Medicine and Hospital as well as special exhibits documenting new medical developments. We hope that people from many walks of life -- not only medical students and professionals, but also patients at the hospital, visitors, and tourists -- will visit the Museum and support it by becoming familiar with its exhibits.
Concluding thoughts
There is no doubt that the recent earthquake, tsunami, and nuclear accident will greatly affect the course of Japan's development. In the medium term, the highest priority is on restoration, and as a university we must work quickly and to the best of our ability to meet the needs of students who want to study medicine and do research. The hospital's duty is to continue doing its best to provide the highest quality medical care possible given the restraints imposed by the electric power shortage, and to continue assisting the disaster-hit areas. In the longer term, however, we cannot avoid regarding this calamity as a crucial turning point compelling us very seriously to rethink the way we work and lead our daily lives. The missions of the Graduate School of Medicine at the University of Tokyo are clear and laudable: to elucidate the mechanisms of biological phenomena, to conduct leading-edge research that contributes to the conquest of disease and the promotion of health, and to train world-class leaders with outstanding knowledge and the ability to conduct highly creative research in every field of medicine. We shall of course continue producing and publishing research findings of the highest quality, but even more important, given the present difficulties, is our resolve to mobilize the full resources of the Graduate School of Medicine as we continue striving to inculcate in our physicians and researchers a firm sense of their responsibility to society.
April 2011