A message from the Dean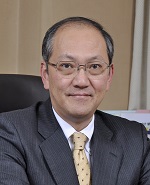 Dean of the Faculty of Medicine and Graduate School of Medicine of the University of Tokyo
Nobuhito Saito
History of the University of Tokyo's Faculty of Medicine
The University of Tokyo's Faculty of Medicine traces its origins back to the establishment of a smallpox vaccination post at Kanda-Otamagaike in 1858, more than 160 years ago. That is how far back its history and traditions go, and how long it has supported modern medical education and has sent forth healthcare practitioners and researchers who have made outstanding contributions to the development of medical science and clinical practice in Japan. The aforementioned vaccination post's first directors – Shunsai Ohtsuki, Ogata Kôan, and Matsumoto Ryôjun – were notable pioneers in the introduction of western medicine to Japan from Holland. With the end of the shogunate and the beginning of the Meiji era in the mid-1800s, decision-making power was restored to Emperor Meiji, who established a national Ministry of Education and a modern school system. The forerunner of our medical school, the Tokyo School of Medicine, moved in 1876 to our present location at Hongô in Bunkyô City (Tokyo). Entering the campus via Akamon (the Red Gate), you see directly in front of you our main administrative building ("Building No. 2"). Around it are clustered the Experimental Research Building, the Medical Library Building, and four other buildings belonging to the Faculty of Medicine. If you enter the campus via the Tatsuoka Gate and proceed straight ahead, you will see the University of Tokyo Hospital and the Clinical Research Building to the east.
During the period 1995-1997, the school reorganized around its graduate-level programs, and in 2004 the University of Tokyo became a national university corporation. Until then, research facilities and inpatient wards that had been built in the late 1920s and 1930s were still being used. Since 2000, inpatients have been housed in the new Inpatient Ward A, and in 2005 the aforementioned Experimental Research Building was completed. For the past few years, the hospital's facilities have been under redevelopment; in 2018 Inpatient Ward B opened, and in 2019 Clinical Research Center Building A was completed with study rooms, offices, and laboratories for clinical departments. Renovation of the South Clinical Research Building is now complete, and it now has a special auditorium for clinical lectures, the Tetsumon Clinical Lecture Hall. We now also have a facility dedicated to multidisciplinary research for innovation in molecular life sciences and academia-industry collaboration, which is also used by departments of the University of Tokyo's School of Engineering and School of Science, among others. With these improved facilities for teaching, research, and clinical care, the infrastructure is in place for great leaps forward.
The Faculty of Medicine's organization and curriculum
The Faculty of Medicine has both a medical school and a School of Integrated Health Sciences. They aim to contribute to progress in the life sciences, medical science, and medical care, and to train future global leaders in those fields. In other words, through creative research they seek the truths that will help solve the problems in those fields, which will, when applied clinically, facilitate holistic healthcare.
The Medical School
The Faculty of Medicine's Medical School has an initial (first-year) enrollment of 110. With the aim of obtaining a license to practice medicine, students learn about the structure of the human body and the mechanisms of pathogenesis. The four years that follow their entry into the Faculty of Medicine are called the M1, M2, M3, and M4 years. Courses in the Faculty of Medicine are classified broadly into the basic medical sciences, clinical medicine, and social medicine. Students begin by studying anatomy and other basic medical sciences as well as social medicine. This not only introduces students to the key fields of study on which our understanding of disease is based, it also provides an invaluable opportunity for aspiring researchers to cultivate their interests in the basic medical sciences and in life sciences as conceived more broadly.
Clinical lectures and training begin in the M2 year. Given the recent reform of medical education, we now emphasize active participation by medical students in their clinical training, that is, their "clinical clerkship." Before starting their clerkship, students must pass both the computer-based tests of knowledge and problem-solving ability that are taken by medical students throughout Japan, and also the "Objective Structured Clinical Examination" OSCEs that evaluate their skills and attitude in medical care. Student doctors are certified and allowed to see patients once they pass these examinations.
Some medical students are particularly interested in research, and among the opportunities for them are the PhD-MD degree, MD researcher training, and clinical researcher training programs.
The School of Integrated Health Sciences
The School of Integrated Health Sciences has a first-year enrollment of 44. By studying the prevention of disease and the relations of health with society and the environment, these students learn to create and develop the nursing and health sciences. The School of Integrated Health Sciences teaches undergraduates in 14 departments distributed among three specialty areas: Environmental Life Sciences, where human biology is studied at the molecular, cellular, and organ levels; Public Health Sciences, whose work promotes health and prevents disease by analyzing health problems in terms of social disparities, medical ethics, and other social relationships affecting health; and Nursing Sciences, where scientific nursing is applied to health promotion, health maintenance, and recovery from illness and injury.
The organization of the Graduate School of Medicine, and its educational and research activities
The purpose and guiding ideal of the Graduate School of Medicine is to advance human understanding of the mechanisms of biological phenomena, and thereby to conquer disease and promote health, and to do so through education, research, and training of international leaders who use their exemplary knowledge in all areas of medicine to do innovative advanced research. To that end, our many laboratories are international leaders in research at the frontiers of medical science and healthcare. Medical students – the next generation of researchers – stimulate and are stimulated by their colleagues as part of these efforts through their participation in research.
The Graduate School of Medicine has nine divisions with programs leading to PhD degrees: Molecular Cell Biology; Functional Biology; Pathology, Immunology, and Microbiology; Radiology and Biomedical Engineering; Neuroscience; Social Medicine; Internal Medicine; Reproductive, Developmental, and Aging Sciences; and Surgical Sciences. A professional degree is also offered in Public Health, and both Master's and PhD degrees are offered in Health Sciences and Nursing, and in International Health. There are also Master's-degree programs in various other medical sciences. Within each specialty are multiple subspecialties in which high-level research is done, and from which 150 to 200 enrollees graduate each year with PhDs.
Other related institutions and services
In addition, we work with the University of Tokyo Hospital, the Center for Disease Biology and Integrative Medicine, the International Research Center for Medical Education, the Global Nursing Research Center, and other institutes active in research and healthcare. For more information, please follow the links to their respective websites.
Society expects the students and teaching staff of the University of Tokyo's Faculty of Medicine and Graduate School of Medicine to lead and to succeed in medical education, research, and healthcare. My message to our students is this: We expect you to have lofty ideals and a strong sense of your mission as you pursue your studies. We encourage you to nourish your interest in science and your enthusiasm for the advancement of medicine, and we hope that you will strive to excel as clinicians and as medical scientists. At the same time, we hope that you will value modesty as you listen to and sympathize with those who suffer from illness, those who are troubled, and those whose social station is low, and thus we hope that you will mature into adulthood with high ethical standards.
April 2019